Book your free demo with our Conversational AI specialist
Volker will show you how your business can benefit from chatbots and voice assistants with the BOTfriends X platform in 60 minutes or less. No cost. No hook. Expert know-how for you and your business.
Volker Kirstein
Conversational AI Consultant at BOTfriends
Just click on your desired date
You are in good company
From large corporations to startups: numerous companies rely on BOTfriends when it comes to chatbots.
We are very happy with our chatbot Vito and the support from our contact person at BOTfriends! The BOTfriends always support us with new ideas and take our feedback into account when expanding the platform. I can speak for our customer service team when I say that Vito does a great job and leads to the relief of our colleagues. Most importantly, however, the customer always gets a solution or a hint as to who can help them with more complex issues.
Guido Messere
Director Service Center at vTours
The BOTfriends team convinces with many years of experience in the field of Conversational AI across the board. They were instrumental in the development of our chatbot, which was recognized by Google with an Innovations Award. They are always able to find scalable solutions for complex challenges. At the same time, they understand how to focus on customer needs. We are just super happy with the collaboration. They always implement presentable results quickly and are passionate about what they do.
David Prieto
Specialist - AI Platform & Bots at Commerzbank Group
We are proud that we were able to bring Thies 'on board' in such a short time. With his knowledge, our helmsman competently and charmingly provides interested guests with information and at the same time relieves our colleagues on the phone.
Adriano Napoli
Head of Customer Service Development
With "Karl", we are pleased to make another digital trend tangible and usable for our customers. Our chatbot optimally complements our existing online channels and offers our customers the opportunity to get answers to questions about Süwag or their energy product around the clock. In addition, we are proud to provide our customers with Karl, a virtual assistant who perfectly supports them in communicating their meter reading and can even help them find the right tariff.
Benjamin Knight
Digital Marketing Officer, Süwag Vertrieb AG & Co. KG
What I really appreciate about working with BOTfriends is that when you bring in ideas, you're not immediately told 'that's not possible' or 'that's not our area'. They didn't serve up a standard concept for us, but put together the ideal package to meet our goals and ideas.
Franz Kokoth, MSc
Team Leader Personnel Systems and Accounting and Head of SAP-CCoE, Steiermärkische Krankenanstalten GmbH (KAGes)
It was super easy to independently set up and manage our chatbot with BOTfriends X. We can train new answers to the chatbot without much effort in order to flexibly respond to the wishes and needs of our customers and constantly develop the capabilities further. In addition to first-level support, room booking, payments and even check-in are now possible with bot support.
By using the bot, we can very successfully relieve the colleagues in the service center as well as at the reception and help our guests faster.
We were surprised and at the same time encouraged by the enormous number of users. Our bot Benno currently processes more than 50,000 requests per month! Thus, the bot has become a firmly anchored part of our customer communication and is indispensable!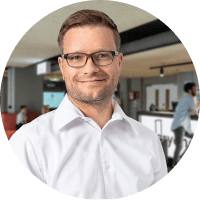 Phillip Winter
CMO a&o hostels