–-> to BOTwiki - The Chatbot Wiki
In chatbot training one speaks of an improvement of speech comprehension and an optimization of the intention recognition behind a user input. For the chatbot training it is on the one hand important to have existing user intentions with further question possibilities (utterances) and thus ensure that the recognition rate (confidence score) and thus the intentions can be recognized even better. On the other hand, it is important to check the questions received during operation and to find out whether any requests are received for which no intent or intention is deposited. In this case, the chatbot plays the Fallback Message and can't answer the question. In order to improve this, the chatbot should be trained and intents should be created for those requests for which there is no content yet.
When do you train the chatbot? 
The chatbot training should already take place during the development phase in order to ensure from the beginning that the suitable contents are played out on the inquiries. Nevertheless, the training during the operation of the chatbot is the most important, because there "real" users interact with the chatbot and usually the weak points or content gaps only appear during live operation. In the training it is very easy to see with which content-related expectations users approach the chatbot and in the event that users expect other/further contents, they should intervene quickly and train the chatbot further.
How can I train the chatbot? 
In most cases, this training takes place directly in the NLP services, such as Dialogflow. Here you can find user interactions in a special section, where you can see how the NLP engine matches intents to user requests. There are 3 possible scenarios:
the NLP service meets the right intent with the user inquiry
the NLP service assigns a wrong, existing intent to a user request
the NLP service can't find an intent for the entered request and plays the fallback intent
Example picture for the training section in Dialogflow: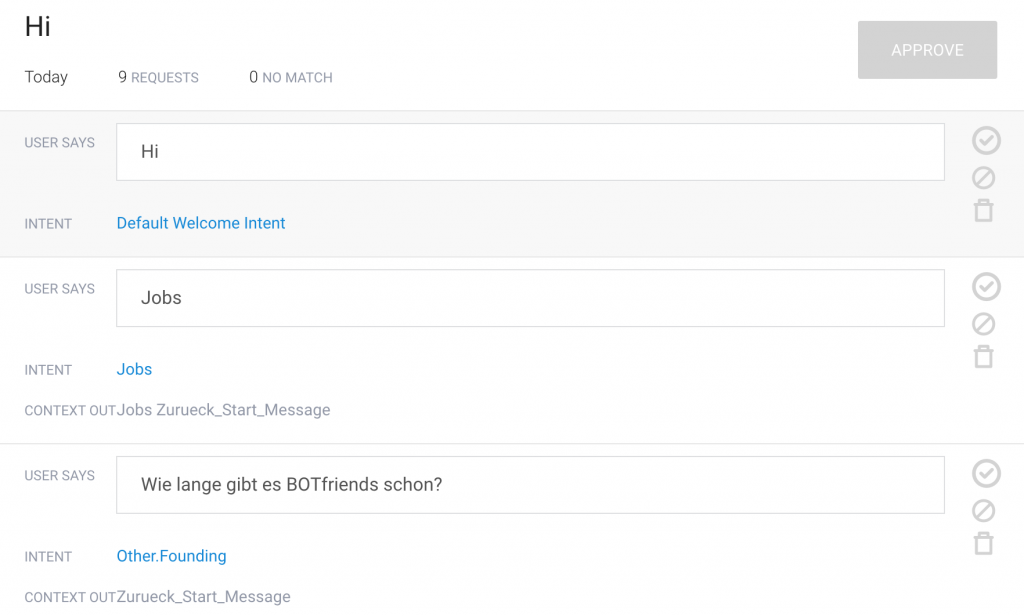 > Back to the BOTwiki - The Chatbot Wiki